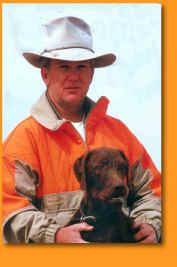 Bob Farris, Owner/Trainer
12635 Cedarwood Boise, ID 83709
(208)322-7792
Email:bobfarris@cedarwoodgundogs.com
If you would like information on the availability of future litters, please email or phone Bob Farris. Detailed questions can best be answered by phone. We have litters in the Spring and occassionally Fall annually from only proven breeding stock; those sportsmen looking for that special hunting companion will find no other kennel breeding pudelpointers with the passionate dedication experienced at our kennel. The waiting period for a Cedarwood pup is usually 3-12 months. Since many reprutable pudelpointer kennels in North America are using one of our 6 stud dogs, we can also assist you in sorting through the different options available for today's sportsmen at the various pudelpointer kennels. We will be glad to give you an honest recommendation of another kennel in the event we cannot delivery a pup to you in a timely manner to suite your needs.
We are now taking reservations for our spring/summer of 2018 litters of puppies. We have some great litters expected next spring from some of the best pudelpointers this breed has ever seen. Check out our breeding stock and the ancestry behind each of our current breeding dogs.
We will be breeding our new Czech import Lord Ze Strazistskych Lesu (aka "Czar") to a number of excellent Cedarwood females next spring. Also Hidden Acres Atlas, Cedarwoods Rerun, Cedarwoods Jumping Jack, Cedarwoods Mtn Huckleberry, and Cedarwoods Image of Tukr.
All our dogs are unconditionally guaranteed until one year old.
Our kennel does not require a sales contract with our clients; what we do require are "honest" sportsmen to place our pudelpointers with !!!!
Puppies are selected on the specific attributes of each individual customer's needs in their next hunting companion. Our goal is to match each individual pup with the appropriate client. You're choosing a companion of the next 15 or so years and selecting a reputable breeder is your most important part of the selection process, as its the breeder that will most likely be picking your puppy for you.
If you are looking for an honestly bred hunting companion, with proven history to back it up, give us a call !!!! We can be reached most evenings at (208)-322-7792.